A visit to Iwokrama is a glimpse into a kind of pristine nature you are hard-pressed to find anywhere else in the modern world
We may not be all that easy to find, and we know it isn't cheap to get here. But, in return for the higher costs and trouble it takes, you gain the benefit of experiencing one of the world's last remaining slices of pristine nature without the bother of crowds, touts, overdevelopment, and cheap plastic trinkets that are so common elsewhere today.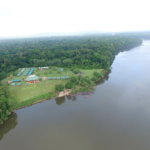 We are located in the heart of Guyana along the Essequibo River near Kurupukari Crossing. Georgetown is approximately 274km (170 miles) north of us, and Lethem is about 160km (100 miles) south of our location. It is possible to reach our location by hired minivan or private vehicle, but many visitors fly in to Surama Village or Annai Village (Rock View Lodge) from Georgetown and then drive 2 hours to our location. Chartered aircraft can land at Fair View village, a mere 2km away from the Iwokrama River Lodge. See our Location page for more details.
V2hlcmUlMjBhcmUlMjB5b3UlMjBsb2NhdGVkJTNG
No.
Q2FuJTIwSSUyMGZpc2glMjBvciUyMGh1bnQlM0Y=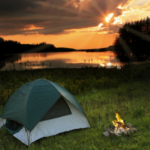 The Iwokrama Forest is protected land so its uses are limited and carefully monitored. Tent camping can be approved through prior arrangement but is restricted to a few designated locations in and around the main Lodge. Camping on the banks of the Essequibo River is arranged in conjunction with multi-day river excursions organized through our travel office. Contact Us for more info!
Q2FuJTIwSSUyMGNhbXAlM0Y=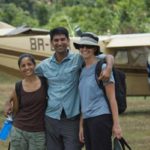 There is an airstrip at Fair View Village, 2 kilometers from the Lodge, that can accommodate any of Guyana's domestic aircraft (C208, C206, Norman Islander, etc). A vehicle from the lodge will meet your inbound flight… it's too far to walk. Read about how to get here to learn more.
RG8lMjB5b3UlMjBoYXZlJTIwYW4lMjBhaXJzdHJpcCUzRg==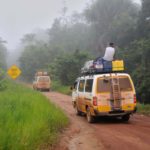 Driving from Georgetown takes at least 8 hours… flying in to nearby airstrips is still a 3-4 hour combined air and ground journey. So, most visitors prefer to spend at least one night at the Lodge. And, why come all this way and not take a little time to soak in this pristine natural place?
Contact us
about a short or long visit!
Q2FuJTIwSSUyMHZpc2l0JTIwaW4lMjBvbmUlMjBkYXklM0Y=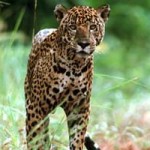 Crime is nearly unheard of in this corner of the world. Out here, our main safety concerns are related to wildlife, uneven terrain, acclimating to the hot and humid climate, and the time and distance required to get to a hospital if something goes wrong. Our guides – with their finely trained senses and familiarity with the local flora and fauna – will always accompany you on any trekking or river excursions to be sure that you are able to enjoy the natural world in the safest possible manner. Several members of our staff are trained in wilderness first aid, and we have constant internet and radio contact with emergency response teams in Lethem and Georgetown.
SXMlMjBpdCUyMHNhZmUlM0Y=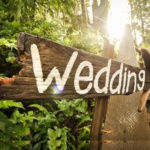 You would be the first, but we'd love to do it!
We can accommodate up to 100 people, although the main guest cabins have a maximum capacity of 24. Additional accommodation is provided in dorm style rooms and slung hammocks. Supplemental overnight accommodation can be arranged in tents or in homes at nearby villages.
Contact us
– we'd love to think it through with you
Q2FuJTIwSSUyMGhhdmUlMjBteSUyMHdlZGRpbmclMjBhdCUyMEl3b2tyYW1hJTNG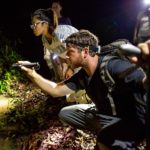 When the Centre opened in 2006, our primary mission was to accommodate visiting scholars and researchers exploring Iwokrama's extreme biodiversity. For many years we were known as the
Iwokrama Field Station
. Over the years we've built 8 guest cabins, expanded our service offerings, trained hospitality staff, designed a activities for all interest and stamina levels, and now provide world-class accommodation for Guyanese and international visitors. You'll still find researchers in-residence, visiting teams from universities around the world, and a host of measurement and sampling equipment in the river and surrounding rainforest lands.
SSUyMHRob3VnaHQlMjBJd29rcmFtYSUyMHdhcyUyMGElMjByZXNlYXJjaCUyMHN0YXRpb24lM0Y=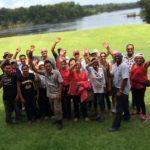 We know that the cost to travel in Guyana is relatively high in comparison to other South American destinations. Limited infrastructure and a low volume of visitors prevents lodges, tour operators, and other tourism vendors from achieving economies of scale. The cost of transport significantly adds to the issue. But, in return for the higher costs you gain the benefit of experiencing one of the world's last remaining slices of pristine nature without the bother of crowds, touts, overdevelopment, and cheap plastic trinkets that are so common today. We do offer off-season discounts for all visitors, as well as reduced rates for Guyanese nationals and CARICOM citizens.
WW91ciUyMHByaWNlcyUyMHNlZW0lMjBleHBlbnNpdmU=