a place of refuge
a place of refuge
Eight waterfront cabins perched on a secluded corner of the Essequibo River deep in the Iwokrama Rain Forest
Revive your senses and awaken your curiosity
Dispense with the stresses and cares of modern life and experience the sights and sounds of a vast pristine landscape in the heart of Guyana. Let us connect you to the pulses and rhythms of a thriving natural world where you can refocus, re-center, and relax. Comfortable rooms, riverfront patios, freshly prepared meals, expert naturalists and guides, and a uniquely warm brand of Guyanese hospitality await you in our little corner of paradise.
adventure
adventure
immerse yourself in Guyana's pristine rain forest
enter a land rich in biodiversity, steeped in history, and free of crowds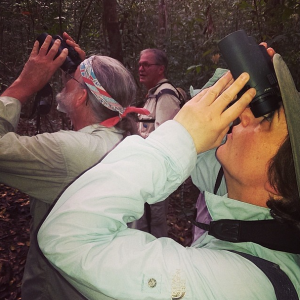 Birding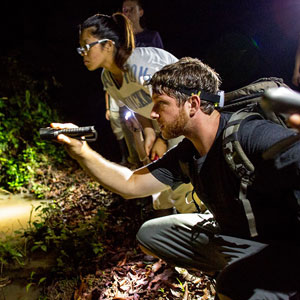 Wildlife Spotting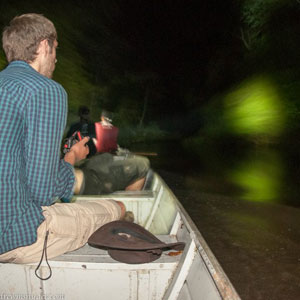 River Excursions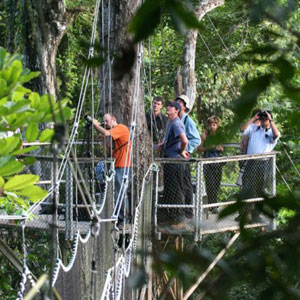 Canopy Walkway
The Iwokrama Rain Forest is one of South America's bird watching hotspots with many of Guyana's 800+ species on display. Iwokrama has relatively high densities of larger frugivorous birds such as cracids, cotingas and parrots as compared to other forested areas in the Guiana Shield or Amazonia. A nearby harpy eagle nest is frequently active, and a Guianan cock-of-the-rock lek on the edge of the Iwokrama reserve provides nearly-guaranteed sighting of this key target species.
No matter how often you've heard the term biodiversity, experiencing it first-hand makes a visit to Iwokrama truly unforgettable. Our lodge is nestled in one of the world's most prolific ecosystems, teeming with birds, mammals, amphibians, insects, aquatic life, trees, plants, and flowers. And, for more than a decade Iwokrama has served as a center of learning for Guyana's most talented and observant naturalist guides who curate this remarkable collection of natures wonders.
Considering the size and density of the rain forest its no wonder that rivers are the highways and byways of Guyana's remote interior region. No visit to Iwokrama is complete without experiencing dawn chorus from the waters of the Essequibo River or trolling slowly along the overgrown riverbanks at sunset to observe the rainforest's nocturnal awakenings. We're a short boat ride from the gushing Kurupukari Falls where village children dip and dive with wild abandon surrounded by ancient Amerindian petroglyphs.
Situated 90 minutes south of the River Lodge is the Iwokrama Canopy Walkway. The four-deck walkway gives you yet another perspective on the birds and mammals of the forest. At 30 metres up in the tree-tops you will be eye to eye with many of the tree dwellers that are rarely seen from the ground. Early risers making their way to the walkway at sunrise are treated to a dawn chorus crescendo (and hot coffee), while sunset is a leisurely opportunity for sundowners and a steady stream of colorful creatures settling down for the evening. No matter when you visit, your binoculars, scopes, and cameras will get a good workout.
exploration
take a closer look at what makes Guyana one of the world's most important biodiversity hotspots
The intersection of science, conservation, and tourism
The Iwokrama forest and its research centre form a unique venture which is proving the concept of a truly sustainable forest – where conservation, environmental balance and economic use can be mutually reinforcing. The three largest research projects underway currently are the Forest Research Network; the Guiana Shield Initiative; and a programme focused on capacity building to support national initiatives in reducing deforestation and degradation in Guyana. As a visitor to the area, you are also likely to encounter PhD and post-doctoral teams whose field work is based in the Iwokrama Forest.